Being invited to attend a wedding is a privilege. To make it on the final guest list you have most likely been hand picked from some of the closest friends and family of the happy couple. They have chosen YOU to be a witness to their love and joy. With this in mind, it is probably not a good idea to disrespect the couple, especially at an African wedding where one look from an African aunty can turn you to stone and their words cut like a knife. Let's take a look at some of the rules you need to abide by to avoid this fate. 
1. Don't upstage the bride by wearing all white!
Attempting to outdo the bride on her special day is perhaps one of the greatest signs of disrespect at an African wedding (no matter how much you want to be featured on Bella Naija Weddings). She has been through hours of fittings and sometimes years of planning in preparation for this day and you want to steal her thunder? Absolutely not. If you've seen monster in law, you'll know that trying to outshine the bride does not end well.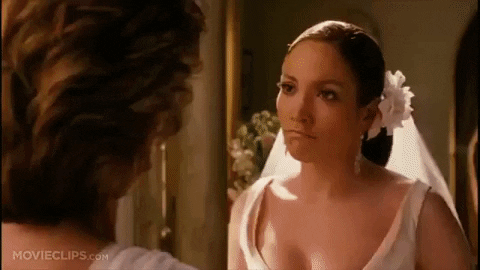 (Credit: Monster in Law, Spring Creek Pictures - 2005)
On the flip side, don't wear black to an African wedding as this can insinuate that you are in mourning. Instead wear colourful and unique outfits as a sign of celebration and respect. The only exception is where the couple have made these colours their dress code which is becoming a trendy choice. 
2. Follow the rules of the Aso Ebi! 
Aso Ebi translates to clothes of the family and refers to the fabric and colours specially selected for the occasion. It is typically worn by the friends and family of the couple as a physical display of their support and unity.
(Credit: Amanda Kotei)
You do not want to be the odd one out as your friends come together in honour of the bride and in celebration of tradition by wearing the fabric Aso Ebi picked out for the occasion. You will forever be reminded of the pictures if you break this rule!
3. Balance timing
The rumours of African time have not been exaggerated, it is very much a reality. A bride is always allowed to be fashionably late however we've been to a fair few weddings where this becomes unfashionable. The couple are late, you are hungry and you feel a tad silly for arriving so early.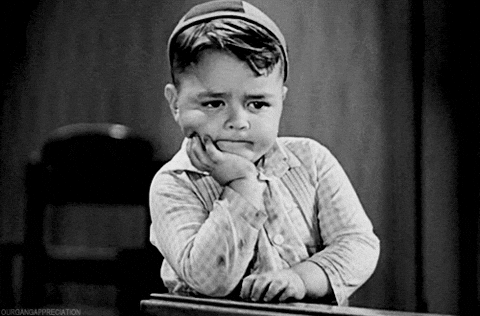 (Credit: GIPHY)
Balance awareness of what time other guests will be arriving with ensuring you don't miss out on show stopping moments. 
4. Don't arrive hungry
This follows from our previous point. Church services at an African wedding do not tend to be a speedy affair. This combined with the realities of African time may just have you feeling a little (or a lot) hangry. Eat before you go to a wedding just in case there are delays. You do not want to be that person who checks desperately on whether your table has been called to the buffet. Make sure the food served is simply surplus to delight your taste buds.
(Credit: GIPHY)
5. Attend with friends & loved one
At an African wedding, the more the merrier usually applies. Although it may not be your celebration, don't miss out on a chance to enjoy the experience. Make sure you sit with your friends and loved ones who are also attending and you'll double the delight of the wedding.
(Credit: www.cultureville.co.uk)

From dancing together to flowing discussion and laughter, a wedding with loved ones is an occasion to remember. Added benefit is that if you are arriving late, they can save you a seat.
6. Couple goals
(Credit: Bella Naija Weddings)
It is the norm for couples to coordinate outfits at an African wedding. If coming with bae, make sure you take the opportunity to take beautiful pictures & it can be a great opportunity to be #couplegoals and come looking beautifully coordinated! 
7. Africans don't come to play, they come to SLAY! 
(Credit: www.cultureville.co.uk)
To earn a place on one of the coveted wedding blogs you have to come ready to slay. Your outfit, accessories and make up need to be on point (and that goes for guys too). Africans never miss an opportunity to show out so make sure you come runway ready.  Slaying on the day ensures that you can be excited to see the pictures and you may even meet someone special looking like fire!
 8. Be respectful
Be courteous and follow etiquette by greeting the elders. If not done, this will cause offence and could result is you receiving the dressing down of your life. Remember those aunties we told you about earlier? You don't want to mess with them.
9. Kids
If you have to bring the children along and make sure they are dressed to impress and on their very best behaviour. Consider their outfits to be a miniature version of your own, after all kids are a reflection of their parents.
(Credit: www.cultureville.co.uk)
10. Prepare to dance
There ain't no party like an African party because an African party don't stop. It is not unusual for people at an African wedding to remain on the dance floor until the building closes. In order to truly experience an African wedding, you have to hit the dance floor.
(Credit: Daniel T Davis Photo)
Be aware of the trending moves, from the Zanku to Akwaaba to Candy and you'll be sure to impress. Ladies, make sure you have flats for dancing the night away into any afterparties!
Now you know the rules have a great time attending future weddings and don't forget to get the perfect wedding outfit from www.cultureville.co.uk
Wriiten By: Francisca Ayree
Fran is the e-commerce manager at Cultureville. She is passionate about African clothing and jewellery and specialises in accessories.